Ok, let's get real here. We age. There's nothing wrong with that. We create lots of scary names for visible signs of aging, like "crow's feet" or "skin folds." It's ridiculous. So long as you're making sure to take care of your skin as best you can, you should never feel bad about aging into your best self.
That doesn't mean you shouldn't have the tools to look and feel fantastic, though. There's nothing wrong with a quick touch-up treatment to help you look and feel the way you want to. Especially if wrinkles or drooping skin leave you less confident or comfortable.
So, if you're wanting to refresh and revitalize your skin and get a more youthful appearance, Touch MedSpa can help! At Touch, we offer a wide variety of injectables near you to help fight back against aging in your face and neck.
Are you interested in learning more about our injectables services? Well, this blog is a deep dive into the subject of Botox & fillers in North Myrtle Beach! Keep reading to hear all about the Touch MedSpa injectables philosophy and how we work with patients to help them feel fabulous.
The Beauty of Botox & Dysport
At Touch MedSpa in North Myrtle Beach, we empower our patients to age naturally and gracefully! 
We never want anyone who comes to us leaving anything less than thrilled with their appearance, skin, and body. So, it's not uncommon that patients come to us looking for a way to treat one of the most common signs of aging: a loss of skin elasticity.
That decline leads to the appearance of moderate to severe parentheses lines (also known as nasolabial folds) and wrinkles around the nose and mouth. Everyone's favorite 🙃
While most serums and creams only work on the surface of the skin, there are a variety of injectables that can smooth these lines and folds by relaxing the muscles that cause these wrinkles on the surface.
For those suffering from fine lines, wrinkles, frown lines, drooping brows, BOTOX® & Dysport are an excellent solution! 
"Why is that?" you probably didn't ask. Well, Botox & Dysport are such great wrinkle relaxers for our patients in North Myrtle Beach because they are neuromodulators. 
Neuromodulators 101
Neuromodulators work beneath the skin's surface by reducing muscle activity at a microscopic, synaptic nerve level. What that essentially means: neuromodulators lessen the nerve firings in your muscles which lead to facial contractions and flexing. Those contractions (muscle activity) are a major cause of the formation of wrinkles. 
By reducing muscle activity, neuromodulators help the face and neck to look visibly smoother. In addition to temporarily reducing the appearance of wrinkles, they also prevent new wrinkles from forming.
And not only are these injectables near you proven and highly effective, they're also incredibly simple! In as little as 10 to 15 minutes, we can complete your treatment and provide lasting results.
Based on your unique needs and goals, our medical providers will mark the proper treatment area and carefully inject you with the solution. While some patients are concerned if their results will look unnatural or if treatment will be painful, there's no need to worry. 
Patients receiving neuromodulators often describe their treatments as relatively painless, with results appearing entirely natural. That's always our goal.
When you come to Touch, you're turning to a team that wants you to look like yourself. No plastic face effect 🙅‍♀️ In short, we'll make sure you still look like yourself, only more refreshed and radiant!
So, what's the difference between Botox & Dysport?
So, what sets apart the wrinkle relaxers we offer? We figure it'd be helpful to break it down.
Botox is the bane of wrinkles everywhere. There's a reason Botox is one of the most popular, longest-lasting wrinkle relaxers in the world.
At Touch MedSpa, we use Botox injections in North Myrtle Beach to treat expression lines on the face, especially small or sensitive areas such as around the eyes (i.e., crow's feet).
Dysport is a natural-looking, fast-acting, long-lasting prescription injection proven to help smooth moderate to severe frown lines between the eyebrows — without changing the look or movement of facial expressions.
A No-Nonsense Neurotoxin Experience
Though we love to chat and have fun with patients, we take your treatment seriously. Here's what you can expect when you come to us for Botox or Dysport in North Myrtle Beach.
During your initial consultation with Touch MedSpa for wrinkle relaxers, we will give you a comprehensive, educational overview of which injectables will best meet your needs and why. This will help you make an informed decision on the treatments you'd like to focus on, all on your own timeline.
The number of injections you'll need will vary by patient. But once your treatment is complete, the reduction in muscle activity will make your appearance look softer and smoother after just 24-48 hours! From there, you can expect full results to last anywhere from 3 to 4 months!
Once you receive your treatments, just make sure to follow all the post-care instructions from your provider. That way, you can ensure you maintain your results as long as possible.
Dermal Fillers in North Myrtle Beach
Fine lines and wrinkles are certainly a sign of a life well expressed. And there's absolutely nothing wrong with that! It means your life is filled with laughter, love, and stories (which we cannot wait to hear). But having fun shouldn't mean you don't get to look the way you want to.
So, if you're wanting a more refreshed look—whether it's for an upcoming event, job interview or presentation, or simply a boost in self-confidence—Touch MedSpa can help. That's where dermal fillers come in!
Rather than creams or supplements that have a difficult time producing transformative results, Touch MedSpa in North Myrtle Beach can place dermal fillers below the skin's surface to fill, soften, and smooth wrinkles from within and restore a natural, more youthful appearance!
How long these fillers last varies from brand to brand, with some lasting up to 12 months, and others providing results for years. Your Touch MedSpa injector will review what you can expect from your fillers in your consultation, and again after treatment!
Our Filler Philosophy
No 2 fillers in North Myrtle Beach are quite the same. Some fill the expression lines around our nose, mouth, and eyes. Some work to provide extra volume and promote a tighter, smoother look. And others actually work to build new collagen in areas of laxity or deeper-set wrinkles!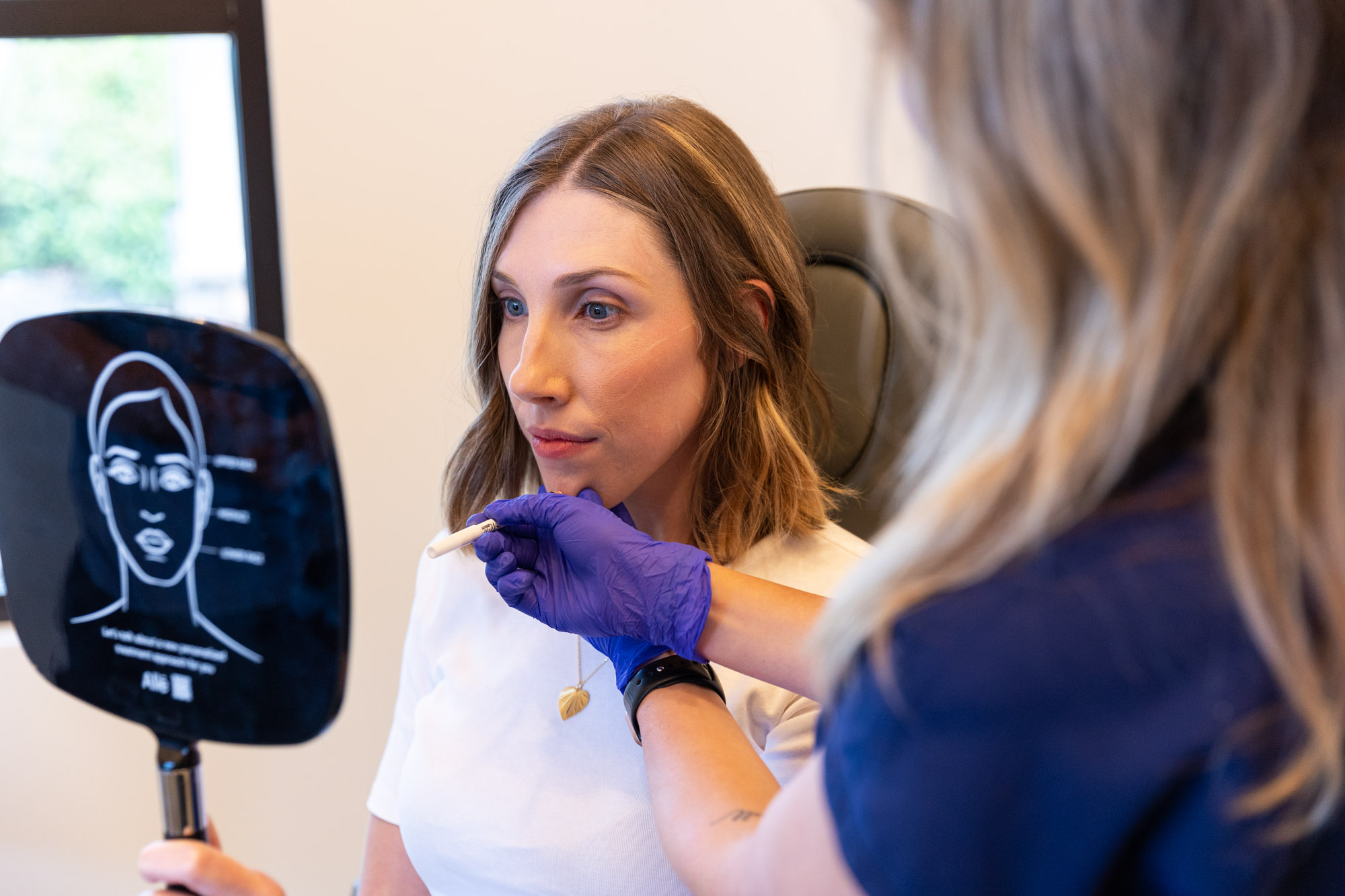 During your initial consultation with Touch MedSpa for dermal fillers in North Myrtle Beach, we will provide you with a comprehensive, educational overview of which brand of filler will best meet your needs and why. This will help you make an informed decision on the treatments you'd like to focus on, all on your own timeline.
Fine Line Fillers
As we age, our skin loses elasticity which contributes to moderate or severe parentheses lines and wrinkles around the nose and mouth.
While most serums and creams only work on the surface of the skin, there are many fillers in North Myrtle Beach that can add volume to smooth these lines and folds—giving you subtle, long-lasting results.
Cheek Filler
Wrinkles and lines aren't the only signs associated with aging. Over time, our cheeks can flatten and skin may start to sag.
This process is caused by a natural loss of volume in the cheek area. Dermal fillers can replace what experts refer to "age-related mid-face volume loss." This dermal filler is designed to add volume beneath the skin's surface to lift and contour the cheek area.
Lip Filler
Whether you naturally have thin lips and want to achieve a fuller appearance, have noticed your lips thinning over time, or noticed vertical lip lines become more noticeable, dermal fillers can be a great solution for you!
For a natural look with kissable softness, our expert injectors can help you select the brand of filler that will best suit your unique aesthetic goals.
Mixing & Matching Injectables for Improved Results
All these cosmetic injectables provide great benefits on their own, but when you combine them, we can deliver personalized results that can refresh or enhance your appearance.
Addresses multiple concerns at once
If you're concerned about the visible signs of aging appearing on your skin or you want to enhance and define areas of your face and neck, it's likely that you have more than one complaint.
For example, if you come to North Myrtle Beach hoping to treat "11" lines between your brows, an undefined jawline, and neckbands, our injectors will create a customized plan just for you. That way, we can combine several cosmetic injectables to address all your concerns in one swoop!
Customizable approach
The quality of the injection results is only as good as your injector. Lucky for you, our injectors have the experience necessary to know the precise product, amount, and placement of cosmetic injectables that will deliver the results you're after and perfectly complement your features.
Delivering customized results suited to your features is where the skill of your injector really shines.
Longer-lasting results
For patients looking to boost the duration of their dermal fillers, we recommend combining dermal fillers in North Myrtle Beach with Botox or Dysport. 
There are a few reasons combining cosmetic injectables produces long-lasting results. A major reason is that dermal fillers tend to break down more easily around areas where repetitive movement occurs. This includes your eyes, brow, and mouth. Well, combining that treatment with botox, an injectable that reduces muscle movement, helps minimize that degradation and maintain filler integrity long-term.
Additionally, Touch MedSpa offers fillers in North Myrtle Beach that help to boost collagen production—like Sculptra®!
Sculptra is uniquely formulated to regenerate collagen in your skin while also serving as a dermal filler. Since a decrease in collagen is a primary cause of wrinkle formation, this helps keep your skin looking younger longer. 
When combined with Botox, dermal fillers & Sculptra provide immediate cosmetic results that only reinforce the collagen boost.
Schedule Your Appointment for Dermal Fillers in North Myrtle Beach Today!
Looking your best only takes a Touch! Our extensively trained and personable staff is dedicated to maximizing the results of Botox & fillers in North Myrtle Beach for each patient. Your skin journey starts here with a free in-office consultation. 
We'll discuss your concerns and goals, so we can create a one-of-a-kind plan to optimize your every visit.
Contact us today to learn more about developing your aesthetic plan and making the most of your results. 
For instant treatment recommendations, you can also try our virtual consultation tool!