The ultimate skin reset for patients of any age
Great for patients at nearly any stage of their life, Morpheus8 RF Microneedling is one of the most advanced skin rejuvenation devices available in North Myrtle Beach. Touch MedSpa is proud to be the premier provider of RF Microneedling, which is a handheld skin remodeling device that addresses a wide variety of concerns in a short period of time!
Whether you have stubborn scar tissue or would simply like a revitalized, refreshed appearance to help you feel your best, Morpheus8 RF Microneedling can provide the tightening and toning effect your skin is craving.
Morpheus8 RF Microneedling Overview
What RF Microneedling Treats
Pore Size
Uneven Skin Tone
Skin Texture
Acne Scarring
Keloid Scars
Benefits
Customizable depth of treatment
Low downtime
Safe for all skin types
How it Works
RF Microneedling is one of our favorite treatments to address overall skin quality, fine lines, acne scarring, and pore size.
After applying a topical numbing cream, your Touch MedSpa provider will gently glide the microneedling device across the treatment area. The Morpheus8 RF handpiece creates tiny "micro-wounds" in the skin which prompts the body to undergo a natural healing process. Over the following weeks, your body will generate new collagen and elastin to help "remodel" the area and improve the texture and tone!
During your initial consultation with Touch MedSpa for skin rejuvenation in North Myrtle Beach, we will give you a comprehensive, educational overview of RF Microneedling and determine together whether it will best meet your needs and why.
RF Microneedling Results
RF Microneedling can produce dramatic results for patients struggling with uneven skin tone or texture!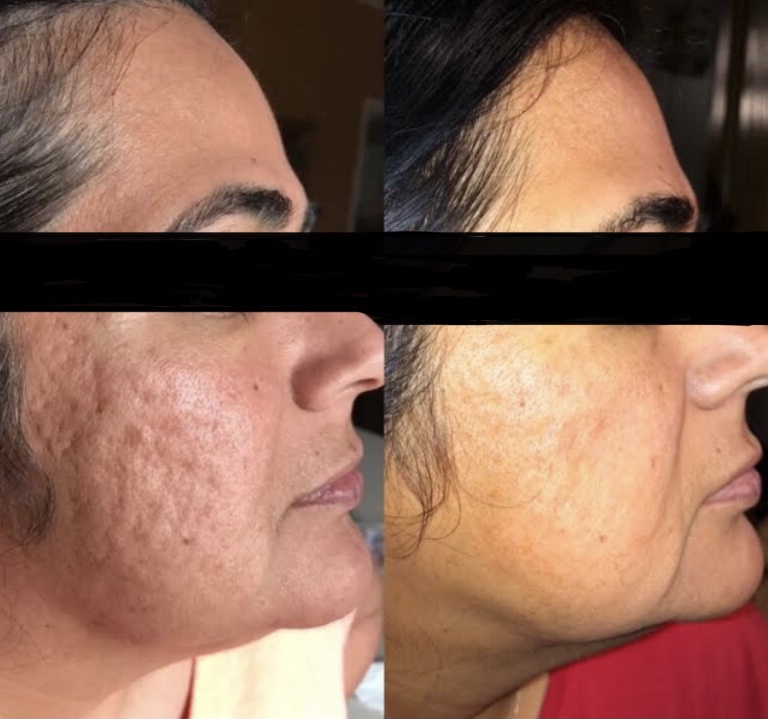 Common Questions About RF Microneedling
Treatments
Get started
Get expert, custom recommendations on what treatments will best address your unique concerns using our Virtual Consultation Tool!
Get my treatment recommendations
At Touch MedSpa, everyone is welcome!
Whether you're new to aesthetics or you're a long-time member of our little family, our team is excited to share our expertise with you and help you achieve a natural, beautiful appearance through every exciting stage of life!