Certain skin concerns, like texture from acne scars, lines and wrinkles, and sun damage need more than at-home skin care (though that's always important). By age 25, wrinkle development begins and collagen production wanes. Some may experience fine lines and other skin damage even sooner thanks to unprotected sun exposure and smoking. 
Deep rejuvenation is what transforms skin texture, and our favorite technology to accomplish this is Contour TRL™ laser skin resurfacing! This one-of-a-kind treatment goes far beyond relaxing facials, sparking facial rejuvenation deep within the skin. 
It's exciting to think of pressing the reset button on your complexion. We can accomplish this with laser skin resurfacing in Myrtle Beach from Touch MedSpa's professionals. Below, we cover the following information on this laser resurfacing procedure: 
What is laser skin resurfacing?

TRL technology

Treatable conditions

Common questions
What is laser skin resurfacing? 
Laser skin resurfacing is a general term for the use of laser technology on the skin. The basic process for almost all skin resurfacing/rejuvenation procedures is collagen induction. 
Essentially, laser skin resurfacing causes controlled injury to the skin; this triggers your body's natural healing response. Your skin cells work to heal themselves by producing more collagen and elastin, which are essential for youthful skin with "bounce" and structure. This type of process leads to rejuvenating results. 
Is all laser skin resurfacing the same?
Definitely not. There are a ton of devices on the market, and they are not all equal. Two of the top manufacturers of medical aesthetics laser skin resurfacing technology are Sciton® and DEKA. They have some of the most exciting skin treatments on the market, and there's a reason the best medical spas have one or more of their devices.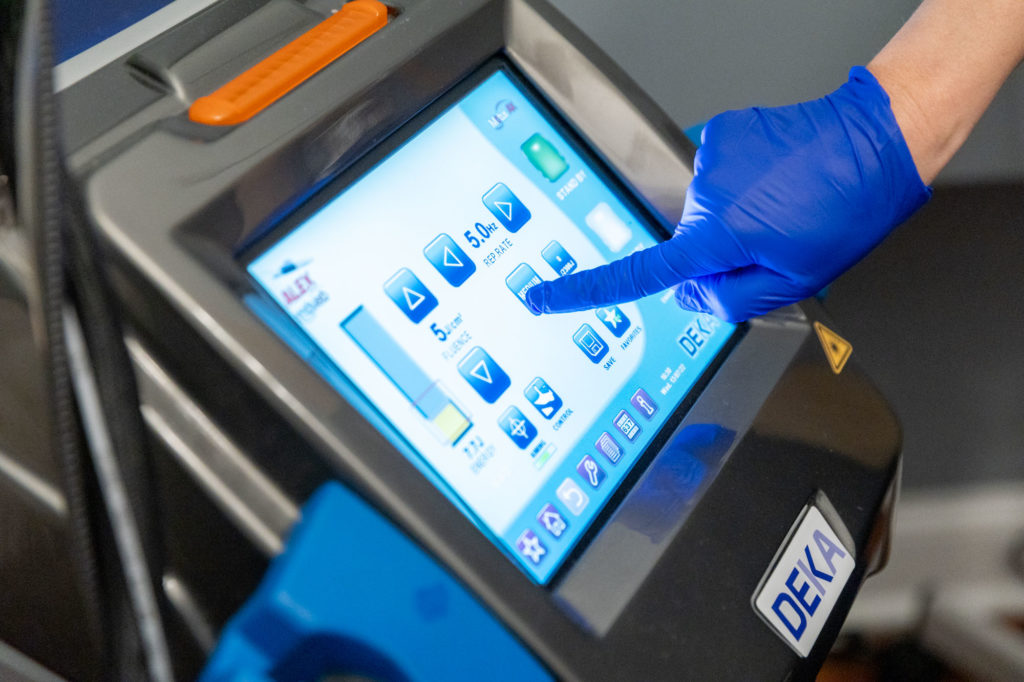 At Touch MedSpa, we have several lasers and light technology in our toolkit: 
And of course, we have the Contour TRL Scanner Erbium Laser! 
What is the Contour TRL laser?
TRL stands for Tunable Resurfacing Laser. It is a deeply penetrating laser that we can use for full facial rejuvenation. TRL can improve a wide variety of skin texture concerns, including: 
Mild-to-deep lines and wrinkles

Skin laxity (sagging)

Lines around the mouth

Lines around the eyes

Acne scars

Other types of scars

Poor skin texture
TRL laser skin resurfacing technology
As mentioned earlier, this laser is tunable, meaning it has a variety of settings to meet the needs of many skin types.
This laser uses a dual mode erbium:YAG laser. Erbium technology allows us to treat skin tissue with very little heat; this allows our providers to deliver transformative results with much less downtime than other lasers like CO2 require. The results are extremely effective without the need for as much recovery downtime!
The benefits of TRL laser skin resurfacing in Myrtle Beach
Customizable settings
This tunable laser allows our providers to tailor our approach to the individual. We'll determine which setting is best for your desired results during your 1-hour consultation. 
The TRL laser has 3 setting options: 
NanoLaserPeel® 
NanoLaserPeel is the lightest setting on the device. This light laser skin resurfacing treatment gets rid of the outermost layer of dead skin cells and promotes skin cell turnover for a rejuvenating glow. 
MicroLaserPeel®
MicroLaserPeel is the next setting option and is great for targeting mild to moderate fine lines and wrinkles, skin texture, and other concerns.
Deep Resurfacing
Deep resurfacing is the strongest setting and yields the most transformative results. This setting can also coagulate tissue, resulting in skin tightening as well as collagen and elastin production. 
Treats Fitzpatrick skin types I through VI
One of the biggest hurdles of laser skin resurfacing is many devices' inability to treat darker skin tones. The darker the skin tone, the more melanin is present, and some lasers can accidentally target and damage melanin in your skin.
The fantastic news is that the TRL laser can safely treat Fitzpatrick skin types I through VI. This is highly unique for a laser treatment, as many are not safe for Fitzpatrick types IV through VI. The wavelength of this specific laser makes it a much safer option for medium to dark skin tones.
Type I
Skin always burns, never tans.
Type II
Skin always burns and tans with difficulty.
Type III
Skin can mildly burn and can usually tan.
Type IV
Skin rarely burns and tans easily.
Type V
Skin never burns and tans very easily.
Type VI
Heavily pigmented skin that never burns and tans very easily.
Less downtime 
Compared to other deep laser resurfacing treatments such as CO2, TRL requires much less downtime. Depending on which setting treatment you receive, your downtime may be as little as 1 or 2 days. This can make your post-treatment recovery much easier to work into your schedule, sometimes as little as a weekend!
Alternative to surgery
Because of its ability to tighten skin along with resurface fine lines, wrinkles, and more, many people consider TRL laser an alternative to surgery like a facelift. The recovery process is much less complex, there are no incisions, and your skin can look years younger—all without surgery. 
Laser skin resurfacing in Myrtle Beach at Touch MedSpa: How It Works
There are so many benefits to this technology, but we have to say one of the biggest benefits of this treatment is the results our expert team can achieve. We're seasoned laser specialists and have a next-level approach for our clients. Learn how it works at Touch MedSpa below.
Consultation
We always start off with an in-depth consultation, and we offer 1-hour consultations for first time patients so we can really get to know you and your skin. We'll have a candid conversation about what may bother you, your at-home skincare routine, treatments you've had in the past, and anything else that helps us understand where you're at. 
You and your specialist will also discuss the range of laser options available and what will work best for:
Your skin type

Your skin tone

Your desired results

Specific target areas
We also use VISIA skin analysis technology during your consultation. We take detailed images of your skin, and VISIA helps us map out different areas and concern types to focus on. Another neat aspect of this machine is that it can measure your skin's "true" age!
Treatment Plan
This helps us set the foundation for us to create a customized treatment plan. We will map out our recommendations for the treatment type that is best for you. The treatment plan will also include a timeline and amount of treatment sessions recommended for the best results. 
Treatment
The treatment process will vary depending on the depth of your laser skin resurfacing procedure. First, we will prep and cleanse your skin before starting. We will also apply topical numbing cream to ensure your comfort throughout the entire process. 
Your provider will check in regularly throughout the laser treatment session to ensure you're comfortable. They will use the handpiece over your skin in precise motions as they follow the predetermined treatment plan. 
Results
After your treatment, your provider will go over aftercare steps that include products to use, what to avoid, and other tips on caring for your skin during the recovery process. Length of downtime varies depending on the depth of treatment, anywhere from 1 to 14 days.
Related: Laser Skin Resurfacing Side Effects & Recovery
Results are progressive as your skin heals and produces new collagen and elastin. Patients can start seeing results within the next few weeks!
Frequently asked questions about laser skin resurfacing
Which laser treatment is right for me? 
The best way to find the optimal laser treatment for your skin is to book an in-person consultation or try out our virtual consultation tool. We'll assess your specific skin concerns and talk through your goals to determine the best laser for you!
Do laser treatments hurt? 
They sure can! Since the technology is causing tissue regeneration by making controlled micro-injuries, many laser procedures can hurt, BUT a good provider will ensure that it doesn't. 
At Touch MedSpa, our process includes pain remediation or preparation to ensure you're comfortable throughout the treatment!
Schedule an appointment at Touch MedSpa for the best laser skin resurfacing in Myrtle Beach!
You deserve to feel confident in your own skin. No matter which treatment option you choose, our experts are here to maximize your results for years to come. Want to learn more about the common laser skin resurfacing side effects and how to prevent them? Contact our team today!
The first step towards your best skin ever starts with scheduling a free in-person consultation with us. At this appointment, we'll get to know you, your current skin, and your skin goals so we can completely customize our care to your needs. You can also try our virtual consultation tool for personalized treatment recommendations right from your device! Don't forget to sign up for our newsletter and follow us on Instagram, Facebook, and Twitter to stay in the know.